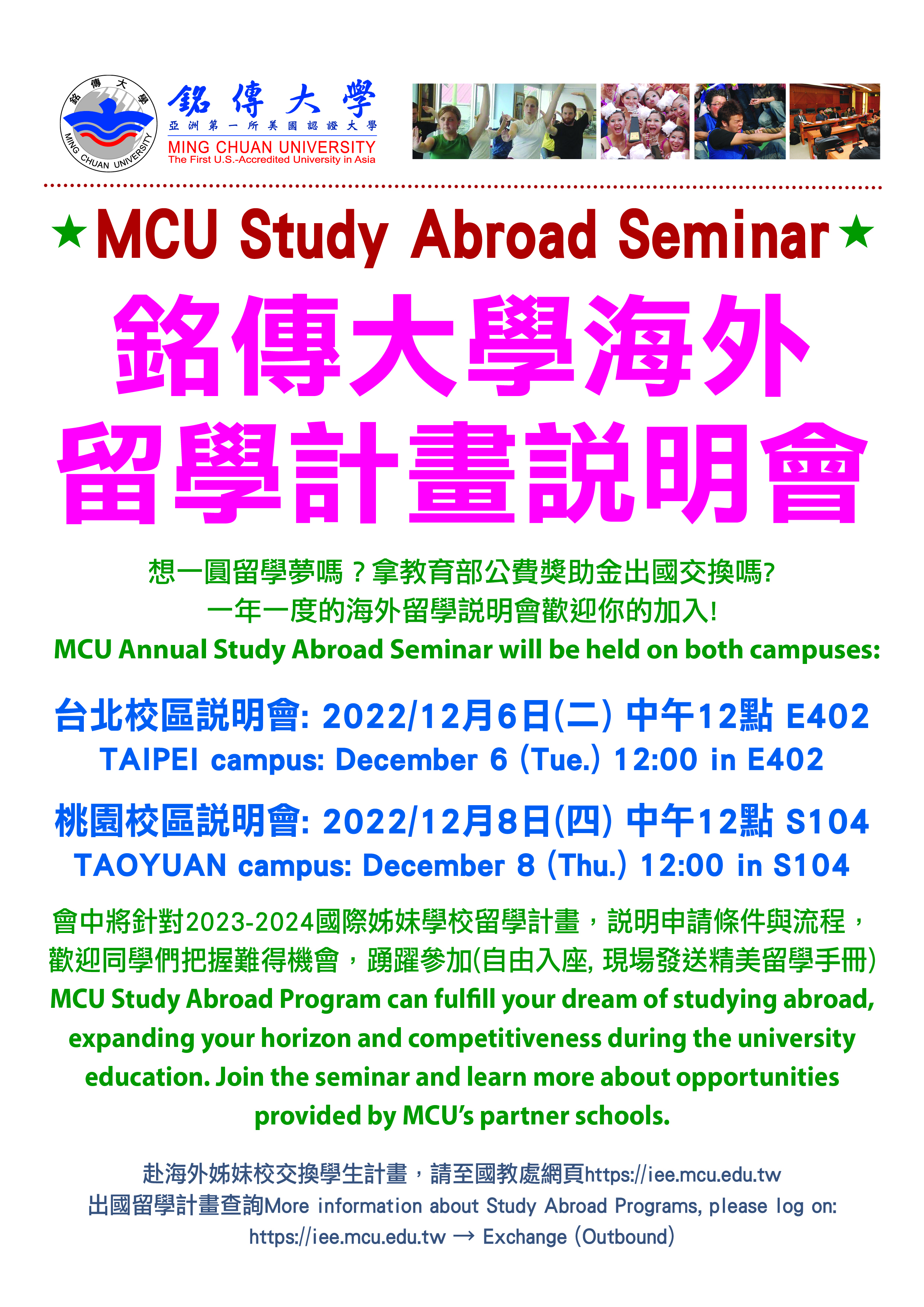 ---
Dream of Studying Abroad?
MCU Study Abroad Program can fulfill your dream of studying abroad, expanding your horizon and competitiveness during your university education.
The Annual Study Abroad Seminar will be held on both campuses: the TAIPEI campus at 12:00 on Tuesday, December 6th in E402; the TAOYUAN campus at 12:00 on Thursday, December 8th in S104. Come and learn about opportunities provided by MCU's international sister schools in Asia, Europe, and America for the 2023-2024 academic year.
To apply, you must be a registered student at MCU, with an academic grade point average over 75 for all semesters, and meet the English language level requirement: above TOEFL-iBT 79 or IELTS 6.0.
Application Deadlines:
2023/3/6 (Monday, before 5 pm) for the 2023 Fall semester
2023/9/18 (Monday, before 5 pm) for the 2024 Spring semester
Pay attention to different application deadlines for overseas partner schools. More information is available on IEE Website (https://iee.mcu.edu.tw) under Exchange (Outbound).
How to apply:
1. Please submit the application documents to International Education & Exchange Division (IEE) BEFORE the application deadline.
IEE Office: 2F, Administration (A) Building in Taipei campus; 1F, Administrative (Q) Building in Taoyuan campus
2. MCU Study Abroad Review Committee review process may take 2~4 weeks.
3. After approved by MCU Study Abroad Review Committee, the student application will be recommended to an overseas partner school for preliminary review, which may take 2~4 weeks.
* Students should not contact overseas partner schools directly until further instructions *
4. Overseas partner schools will provide application information and students should follow the instructions to submit the application to the overseas partner schools.
5. Overseas partner school will review and issue the acceptance letter, and then the student can proceed with the VISA procedure, dormitory application, air ticket reservation, insurance coverage, etc.
---